___________________________________________________________________________________________________________________________________________
Labor News Up To The Minute
by Samuel Morris Godwin Morris Laurenzi Bloomfield
50 N. Front St., Memphis TN 38103
901 528 1702 901-528-1702 
established yesterday – subscriptions good until tomorrow – published as news breaks
———————————————————————————————————————
Wildcat Slows East Coast Container Deliveries

NY-NJ port terminals reopen after ILA wildcat strike
Joseph Bonney, Senior Editor | Jan 29, 2016 7:38PM EST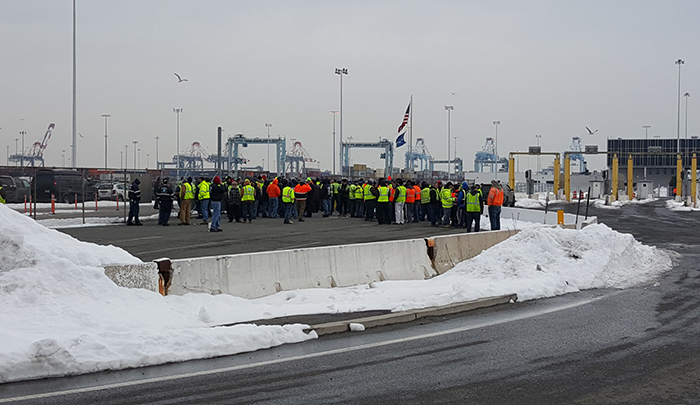 Longshoremen outside the APM Terminal in the Port of New York-New Jersey.
Container terminals at the Port of New York and New Jersey resumed operations Friday night after International Longshoremen's Association members staged a one-day wildcat strike that was clouded by confusion and blamed on a variety of issues.
The surprise walkout at 10 a.m. Friday disrupted the East Coast's busiest port, which was still trying to catch up after being idled for four days by Winter Storm Jonas and the Martin Luther King Jr. holiday the previous week.
The New York Shipping Association moved quickly to secure an arbitrator's award declaring the work stoppage a violation of the NYSA-ILA contract's no-strike provision. The ILA then issued a statement urging union members to return to work.
"During this time, discussions took place between the ILA and NYSA with regard to outstanding issues concerning chassis, jurisdiction, hiring and technology," the NYSA said in a statement. "It was agreed to expeditiously seek solutions to these longstanding issues."
The strike caught terminal operators and truckers flat-footed. There was no official explanation for the walkout, which was unaccompanied by picket signs. As rumors swirled, several union sources said the walkout was aimed at the Waterfront Commission of New York Harbor, which regulates port hiring and has worked with federal authorities on criminal investigations related to the ILA.
ILA spokesman James McNamara confirmed that the strike seemed to be "directed at the Waterfront Commission and its interference in hiring and harassment of ILA members." He said dockworkers also were concerned about chassis jurisdiction and technology.
NYSA President John Nardi learned of the strike via email while on an airplane. He said the walkout was unexpected and that employers "had absolutely no indication" of its cause. He said subsequent discussions indicated that the work stoppage was triggered by a "compilation of a lot of unresolved issues" that he said the two sides agreed to address.
In its prepared statement, the ILA said its leaders had told members: "We have heard your voices, we have heard your concerns, and we have taken action on your behalf… We urge all ILA members to return to work and will continue to report to you on the progress we make resolving all concerns of our hard-working and dedicated ILA workforce."
The ILA and NYSA have battled the Waterfront Commission for years, and filed an unsuccessful lawsuit accusing the commission of illegally interfering in their collective bargaining agreement. An appeal of the case is pending before the 3rd U.S. Circuit Court of Appeals in Philadelphia.
Chassis maintenance and repair is another long-festering issue. In recent years, container lines that are signatories to the union's coastwide contract have transferred most of their chassis to leasing companies that aren't contract signatories. Though the lessors have pledged to continue to use ILA labor for their maintenance and repair, ILA President Harold Daggett wants to tie them to a contract.
The issue of chassis M&R jurisdiction has emerged as one of the stickiest points in exploratory talks about a long-term extension of the union's current coastwide contract, which expires in 2018. Insiders report that the chassis issue has slowed momentum toward early negotiations on a new agreement. Technology is another longstanding ILA concern.
Why these issues suddenly erupted into a strike Friday remains unclear. What is clear is that the walkout caused port-wide disruption. When workers suddenly walked out, many drayage drivers already were inside terminals or waiting outside terminal gates.
Trucking company dispatchers advised drivers to avoid joining queues outside terminals. The port authority soon after issued a similar request. However, some drivers who were already inside terminal gates said they had to wait for hours to get permission to exit terminals.
More than two hours after ILA members walked out, some trucks were still queued up outside terminals. Some drivers waited on side streets near the port hoping in vain that the work stoppage would be short-lived.
The disruption virtually guarantees heavy traffic and delays next week at the port. Though terminals' ship and yard operations run 24/7, terminals' truck gates normally are closed on Saturdays. GCT Bayonne said it will keep its gates open as previously planned on Sunday, and will operate Sunday gate hours through February.
The shutdown also is likely to produce hefty demurrage and per-diem detention bills for late pickup and return of containers. During previous port shutdowns, these charges have been waived by terminals and container lines in some but not all cases.
Friday's walkout apparently began with ILA mechanics in Local 1804-1. Word quickly spread that terminals would be shut down. At the APM Terminals gate at Port Elizabeth, more than 100 ILA members milled around, waiting to see whether they would be called back to work.
Several said they followed instructions passed along by fellow workers to walk out at 10 a.m., but were uncertain why the strike was called.
"All that I know is it's cold," one heavily bundled dockworker said.
————————————————————————————————————————————————————————————————–
—–all the labor news that's not fit to print anywhere else—-
To sign up contact [email protected]
50 N. Front St., Memphis TN 38103
901 528 1702 901-528-1702 
established yesterday – subscriptions good until tomorrow – published as news breaks
——————————————————————————————————————————————————————-